Blog - How to Master Urban Balcony Gardening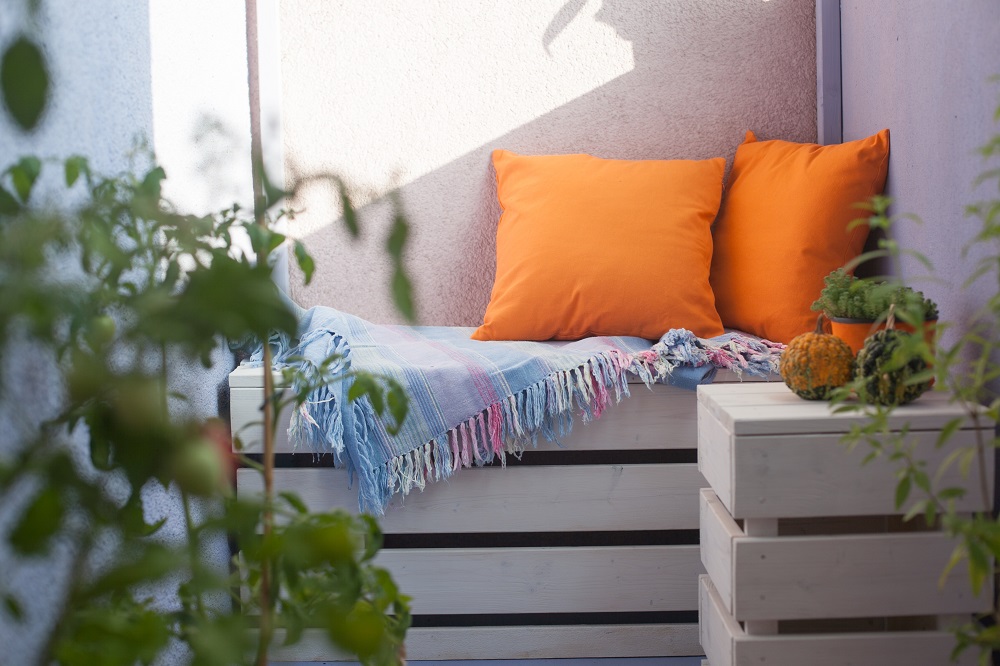 HGTV has identified urban balcony gardening as one of the top 2017 Pinterest design trends and we couldn't agree more. Everywhere you look there's a new idea for cute gardens in the tiniest of outdoor spaces: urban gardens.
If you have a lackluster balcony and are ready to re-innovate your space, here's everything you should keep in mind to create a balcony that's beautiful from the inside and out—and easy to maintain.
Choose a Tree or Shrub as a Base Plant
Small spaces can look busy when treated to too many design ideas and too many types of plants. The most successful balcony gardens all begin with one main plant that it is repeated throughout. Depending on the size of your balcony, you may have three or thirteen containers of this mainstay plant.
Choose a base plant that is beautiful year-round. Evergreen options include boxwood, eucalyptus, thyme, and bay trees. Your base plant could even be a small conifer if that's fitting with your style or natural environment. Then when Christmas comes around, just add ornaments for a festive fix!
But your base plant doesn't have to be an evergreen to be beautiful year-round. Red maples are stunning, even without their leaves.
In some countries, like Italy and Greece, it's common for balcony gardens to feature only one plant, such as geranium or lemon trees. This idea creates a simple, classic look by playing up the tones of exterior walls.
Use Flowering Plants as Accents
With a hardy base plant providing foliage to your balcony, you can experiment with bringing in different flowering plants dependent on the season. Perennial bulbs like daylilies and daffodils can transform your balcony in the spring and hide amongst the base plants during fall and winter.
For quick bursts of color, you can buy already-flowering annuals or plant them from seeds.
By thinking of flowers as accents and not the main event, you can prepare for any entertaining that you have coming up, without feeling beholden to plants that don't last.

Have a Color Palette for Flowering Plants, Furniture & Accessories
Choosing a consistent base plant is just one way of keeping your balcony garden design from getting too busy.
The other way is to have a consistent color palette. Small balconies often need just two colors in addition to green. Let's say you have a cool-toned base plant like eucalyptus. You could brighten that up with yellow accents—maybe a throw rug, a single chair, and seasonal flowering plants. Then complete the look with a few deep purple notes.
Choose colors that you can find in furniture and in accent plants, like the deep reds found in coleus or the purple of ornamental castor bean.
This fig tree takes center stage with a container and pillows in matching tones:
Try Your Hand at Succulents
If you live in a temperate climate and your balcony gets enough sun, consider making succulents a mainstay in your tiny garden.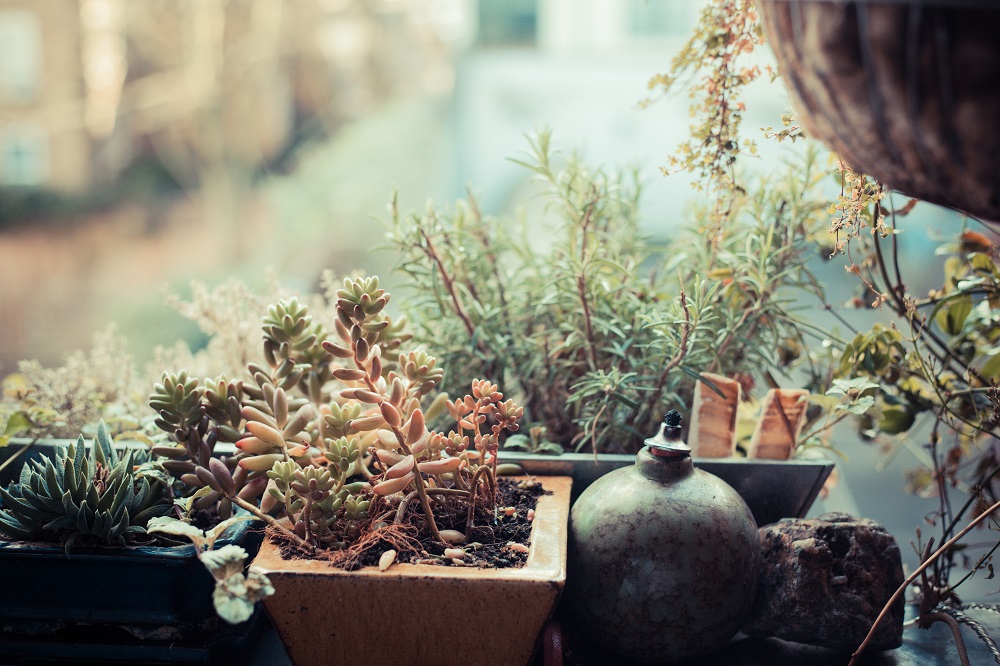 Succulents are easy to care for, come in a variety of shades, and are fun to mix and match. Add a few haworthias or jade plants for accents in interesting shapes, or go all-out with succulent gardening by choosing Thundercloud Sedum as your base plant and punching it up with rock plants in oranges and purples.
Invest in High Quality Chairs
Maybe your urban balcony is way too small for luxurious patio furniture.
Not to worry. You can still up level your balcony garden by choosing a small 3-piece bistro set or a couple folding chairs in steel or wood.
You'll have more attractive color options than you would with plastic, and can create a more purposeful, put-together design. Even though these materials stand up better to both sun and rain than do plastic, you should still consider protecting them against the elements. A cover for the table and chairs can do the trick.
If you use folding chairs, you can prop them up against the wall (and under a small awning) when not in use.
Be Safe: Put Heavy Containers in Corners or Edges
If you're simply adding a few large plants, a few small ones, and one or two chairs, you probably don't need to consult with an engineer. But if you're creating an urban jungle or using really large containers, you might want to get the green light from someone qualified to advise on the load-bearing capabilities of your balcony.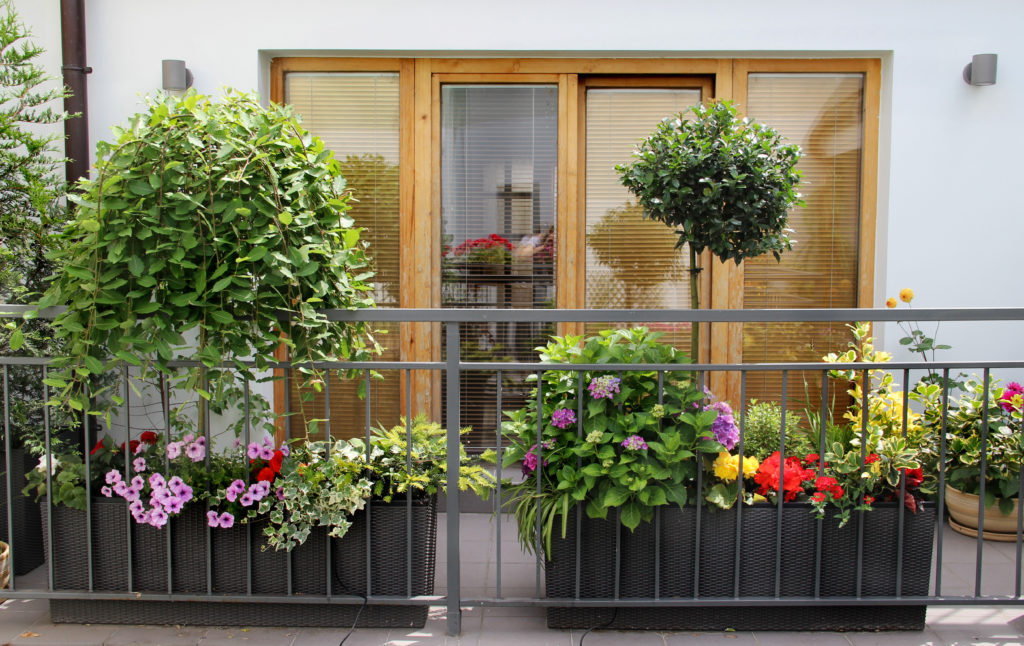 To be on the safe side with your balcony garden, place heavy plants (such as your base trees) in corners or along walls and edges—rather than in the center of your balcony, which likely doesn't have a support beam or structure.
Luckily, common sense placement also makes for good design. You can have larger plants on the outside, and work your way in.
Think Ahead for Easy Maintenance
You'll thank yourself for choosing a base plant that is low maintenance. Juniper, various variegated grasses, pine trees, or thyme can handle random watering cycles and a myriad of temperatures.
When you feel confident that your base plants will survive and keep your balcony verdant, you can take a bit more risk with your accent plants.
Low maintenance base plants are only the beginning. You should also find ways to stretch out times between watering. You can do this by choosing glazed (as opposed to unglazed) ceramic pots because they retain moisture. Also, try using watering accessories like stones or little figurines that seep out water over time. Lastly, top dressings like bark chips and small gravel placed over the soil can keep plants from drying out too quickly and contribute to your overall design.
Create a Balcony That Looks Amazing from the Outside
In your urban home, you might not have control over your apartment's curb appeal.
But you can control your balcony appeal, and create a beautiful scene that is pleasing to passerby and brightens your day as you leave home.
Simply consider what your garden design will look like from the outside. Place plants close to the railing instead of only up against the wall, or pay attention to the color patterns you can create. It's a fun added design challenge to create something that is attractive the outside view.
So, there you have it: our top tips for balcony gardening, even in the smallest of spaces! If you follow these tips, you'll have an urban balcony that is beautiful, practical, and simple to maintain.
Have you ever tried to create an oasis in an urban setting? Let us know in the comments below.