Blog - 5 Fun Terra Cotta Planter Craft Ideas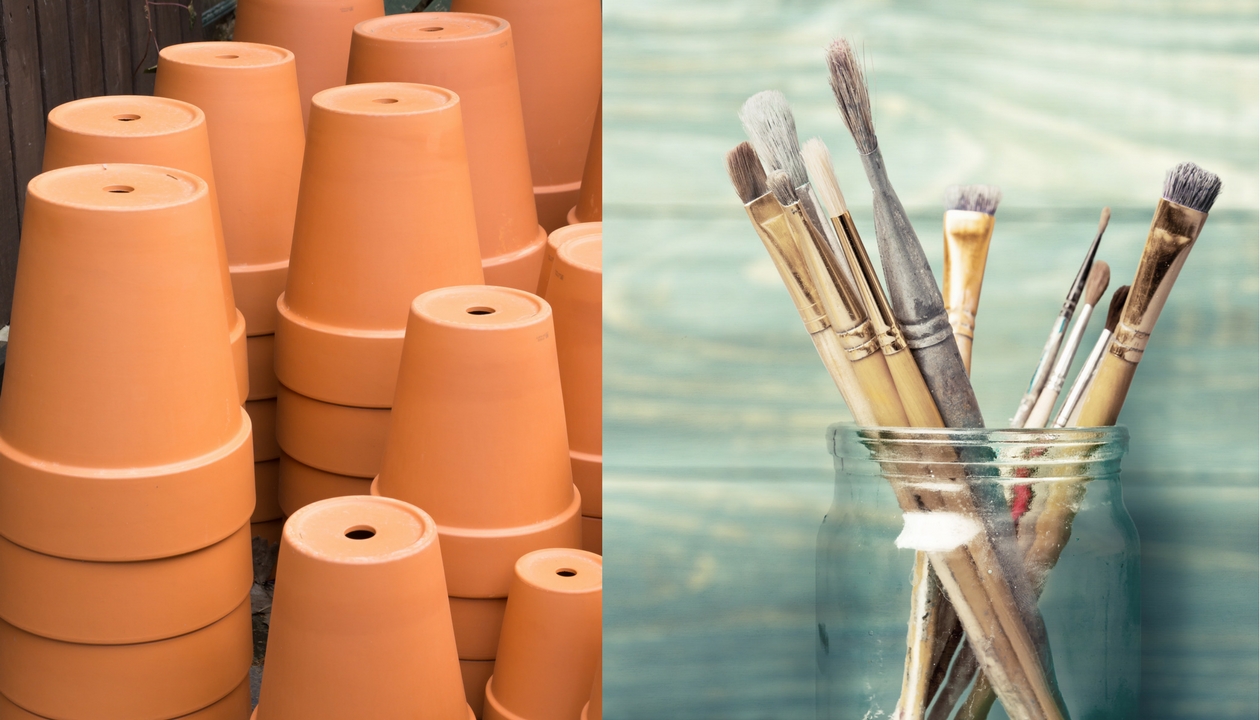 Terra cotta pots are easy to find and affordable, making them an excellent base for your next craft project. Plus, as you'll see from these fun craft ideas below, they can be turned into just about anything.
Time to grab some paint, some glue, a terra cotta planter or two, and get creative!
Teacher's Candy Jar
So cute! This candy jar makes a perfect gift for teacher. It's a pretty simple concept: paint a terra cotta jar and saucer in a matching candy-apple red, then use a pencil end and a leaf cut out of foam or card stuck to complete the look.
If you like the idea of creating a candy jar as a gift, but don't want it to look like an apple, consider painting the jar and lid in turquoise or teal and then decoupaging beautiful, natural items like shells or feathers on top.
Garden Toadstools
These terra cotta toadstools are so easy to recreate. Choose your favorite bright colors for the wide lid on top and a white or soft gray for the base. Round, white spots on top give it that fun, cartoon style. Creating a few of these in different colors or sizes will really give your garden a fairy forest look.
Terra Cotta Candles
Not every terra cotta planter craft requires a can of paint. This idea is a simple and elegant way to add a personal touch to your home. All you have to do is put a little modeling clay at the bottom of each pot, add a long wick—keeping it straight and taught with a skewer resting against the pot's rim—and pour in warm candle wax.
You can experiment with many different candle recipes, adding in beeswax or your favorite essential oils. While the candles will be beautiful all on their own, a gold leaf rim is a welcome upgrade.
Rustic Terra Cotta Bird Bath
Making a bird bath out of terra cotta pots can be completed in just a couple hours. You don't have to search for the perfect bird bath for your garden, but can make the perfect one instead.
All you'll need is the right planters to correspond with your desired shape and design, some paint, a heavy duty glue, and sealant. Be sure to seal the paint all over—not just the interior of the bath—to protect it against the elements and to keep the paint color and texture consistent throughout.
Stunning Floral & Candle Centerpieces
Looking for a unique project that lets you stretch your gardening and crafting muscles at the same time? By nesting two terra cotta pots, you can create a candle holder and a flower container all in one. The smaller pot on the interior is filled with gravel to provide a base for the candle and glass hurricane. Then soil is placed in around the smaller pot, to allow for seasonal flowers.
To play off the warm tones of the fire and the planter, choose blooms in oranges, yellows and reds.
Terra cotta planters make a great foundation for so many different types of crafts: from kid friendly to evening ready. Have you experimented with any terra cotta crafts? Let us know in the comments below!